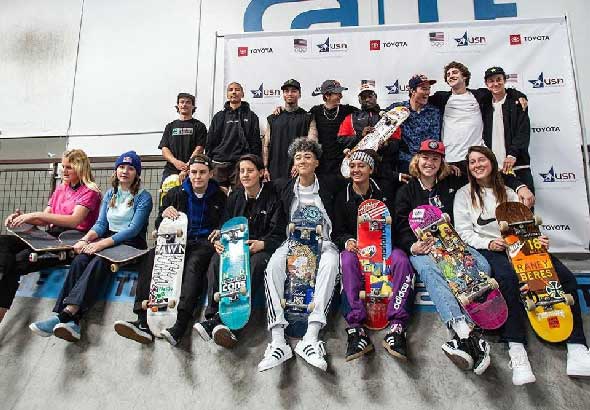 Les États Unis d'Amérique annonce leur team pour les JO.
Women's Park and Street competitors. Park : Jordyn Barratt, Bryce Wettstein, Brighton Zeuner, and Nicole Hause.
Street: Mariah Duran, Jenn Soto, Alexis Sablone, and Lacey Baker.
Men's riders. Street: Louie Lopez, Jagger Eaton, Chris Joslin, and Nyjah Huston.
Park: Alex Sorgente, Tristan Rennie, Tom Schaar, and Zion Wright.
Team America: @jordynbarratt, @brycewettstein, @brightonzeuner, @nicolehause, @mariahduran_, @jennsoto, @suminaynay, @laceybaker, @louielopez, @jaggereaton, @chrisjoslin_, @nyjah, @alexsorgente, @tristanrennie, @tomschaar, and @zionwright.
---
On est super-mega content pour lui !!

---
Bowl Jam
1. Pedro Barros. 2. Sam Beckett. 3. Rune Glifberg
Open Ledge Session at Jarmers Plads
1. TJ Rogers. 2. Louie Lopez. 3. Youness Amrani
Flyout and Flatbar Session
1. Louie Lopez. 2. Curren Caples. 3. Axel Crysberghs
Open Table Session at City Hall
1. Luan Oliveira. 2. Evan Smith. 3. Madars Apse
Triple Set at Havnegade
1. Neverton Casella. 2. Hermann Stene. 3. Alexsander Risvad
Ledge Session at Supermercado
1. Luan Oliveira. 2. TJ Rogers. 3. Sewa Kroetkov
Street Super Finals
1. Nyjah Huston. 2. Luan Oliveira. 3. Axel Crysberghs. 4. Louie Lopez. 5. Oskar Rozenberg Hallberg

---