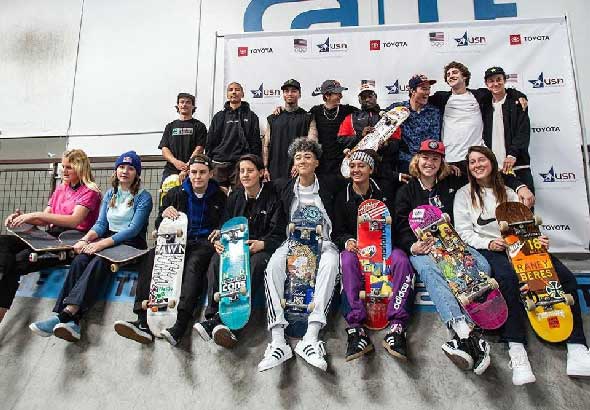 Les États Unis d'Amérique annonce leur team pour les JO.
Women's Park and Street competitors. Park : Jordyn Barratt, Bryce Wettstein, Brighton Zeuner, and Nicole Hause.
Street: Mariah Duran, Jenn Soto, Alexis Sablone, and Lacey Baker.
Men's riders. Street: Louie Lopez, Jagger Eaton, Chris Joslin, and Nyjah Huston.
Park: Alex Sorgente, Tristan Rennie, Tom Schaar, and Zion Wright.
Team America: @jordynbarratt, @brycewettstein, @brightonzeuner, @nicolehause, @mariahduran_, @jennsoto, @suminaynay, @laceybaker, @louielopez, @jaggereaton, @chrisjoslin_, @nyjah, @alexsorgente, @tristanrennie, @tomschaar, and @zionwright.
---
Check out a new addition to Powell Peralta, Jordyn Barratt. Jordyn won the Vans Women's Pro Combi contest a couple weeks ago.
I've been flowing her Bones Wheels and Bones Bearings for quite a while now, and I am stoked on her progression!
During the sesh last night at the Vans Combi Bowl, Cab approves!
Follow Jordyn on Instagram at @jordynbarratt
Here's her 1st place run in the Combi Contest as posted by Thrasher Magazine:


---
GIRLS
1/ Lizzie Armanto, USA. 2/ Brighton Zeuner, USA. 3/ Nicole Hause, USA. 4/ Allysha Le, USA. 5/ Poppy Starr Olsen, Australia. 6/ Julz Lynn. 7/ Jordyn "Jordy" Barratt, USA.
MASTERS
1/ Neal Hendrix, USA. 2/ Jocke "Airlines" Olsson, Sweden. 3/ Nicky Guerrero, Denmark. 4/ John 'J-Mag' Magnusson, Sweden. 5/ Mike Frazier, USA. 6/ Sebastien Daurel, France. 7/ Mathias Sernklo, Sweden. 8/ Rich "The Beast" Lopez, USA.
PRO/AM
1/ Clay Kreiner, USA. 2/ Jimmy Wilkins, USA. 3/ Sam Beckett, UK. 4/ Rune Glifberg, DEN. 5/ Chris Russel, USA. 6/ Jessie Thomas, UK. 7/ Edgard "Vovo" Doroira, BRA.
---