Available for the first time Officially from Creature since it's 2007 release, here is Black Metal in it's entirety…. Featuring Navarrette, Partanen, Gravette, Hitz, Perkins, Mallory, Bingaman, Graham, Horn, Ponts and More.
13/04/2017 | Categories: Vidéos | Tags: Bingaman, Creature Skateboards: Black Metal, Graham, Gravette, Hitz, Horn, Mallory, Navarrette, Partanen, Perkins, Ponts, sk8, sk8.net, skate, skateboard, skateboarder, skateboarding | Leave A Comment »
---
Résultats et commentaires ici !
20/09/2012 | Categories: Infos | Tags: A La Bonne Planchette, Aaron Penna, AFTER SHOW_FAR'N HIGH au SHOWCASE, Alex Richard, Andy Scott, Antoine Laurent, Back To The Street session_Rouen, Benoit Renaux, Bingaman, BOB CASALE, Carl Bourguignon, Corentin Hue, Creature Skateboards: Black Metal, David Basso, Edouard "Frenchi" Damestoy, Ficelles Picardes 2017 !, Fred Mortagne, Gaëtan Ducellier, Graham, Gravette, Hitz, Horn, Jean Pantaleo, Jérémie Plisson, Jeromy Green, Jocke Olsen, Joris Brichet, JT Saldou, Juan Renoux, Jussi Korhonen, Keegan Palmer, Kevin Kowalski, l'"Equipe de France de Skateboard Juniors, Les niaks, Mallory, Napo Jam IV, Navarrette, Partanen, Paul Luc Ronchetti, Perkins, pessac, Pic-Nic Table Contest, poissy, Ponts, Rony Gomes, Sacha Pinon, sebastian Mouron, skatepark de villiers sur orge, Skaterock XI + Skaterock Contest, smendou skate part, Teddy Morellec, Thomas Belot, Volcom BOWL-A-RAMA, Yoann Kim | Leave A Comment »
---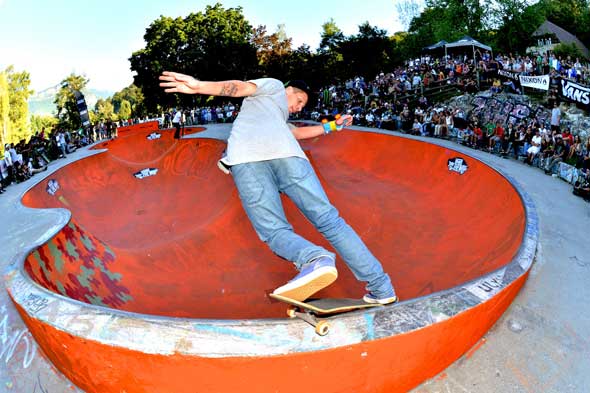 Les meilleurs riders « street & bowl » d'Europe se sont affrontés le week-end dernier au Skatepark des Marquisats à Annecy (France), dans le cadre de la troisième édition du Vans Concrete Week-end – seconde étape du Vans Bowl Series-. Le britannique Sam Beckett a remporté la première place de la compétition de « Bowl ». Sa technique irréprochable lui a permis de repartir avec les 1 000€ de récompense et une qualification pour le Vans Bowl Series. Jake Collins a donné tout ce qu'il avait en lui, il a décroché la seconde place du podium, Joris Brichet, le héro « bowl » local n'est pas reparti bredouille puisqu'il est arrivé troisième de cette compétition.
Peu avant la final du bowl, le public a pu assister à une belle battle entre les meilleurs street skaters français à deux pas du lac d'Annecy. Afin de remporter ce combat de titan, Douwe Macace a placé un maximum de trick en 10 minutes, il a lui aussi remporté 1 000€ de prize money. Max Genin a pris la seconde place, quant à  Adrien Bullard, il est monté sur le podium en décrochant la troisième place.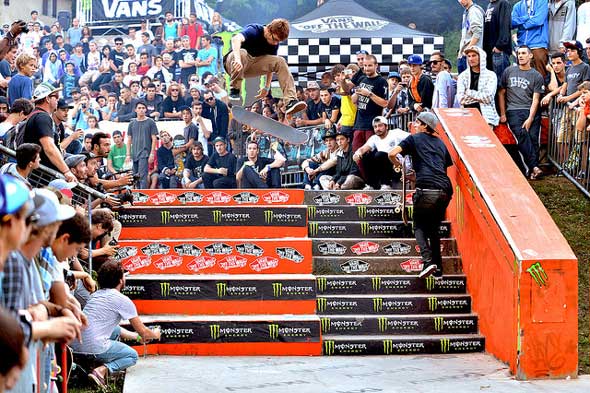 Les riders ont eut la chance de repartir avec encore plus de cash grâce aux  Best Tricks organisée durant le week end. Concernant le Best Trick Analog, c'est Sebastien Belgout qui le remporte.
Avec leurs prouesses sur le Best-Trick ProTec sur l'extention du Bowl, Sam Beckett, Jake Collins et Szymon Stachon  se sont répartis le prize money. 
Le week end s'est finalement achevé par le désormais fameux Best Tricks sur les Blocks – supporté par Monster Energy cette année – : Max Genin, Adrien Bullard et Aurelien Giraud ont prouvé qu'ils étaient les meilleurs dans cette catégorie et se partagent à leur tour le Cash mis en jeux. Comme toujours nous tenons a remercier tout particulièrement nos partenaires : Monster, Fiat Freestyle Team, Analog, Nixon, Spitfire, Independent, ABS, le Annecy Board Club, Cliché, Pro-tec et la ville d'Annecy. Restez connecté et suivez avec nous la prochaine étape du Vans Bowl Serie au Best of Both Bowls à Dusseldorf, les 22 et 23 septembre prochain.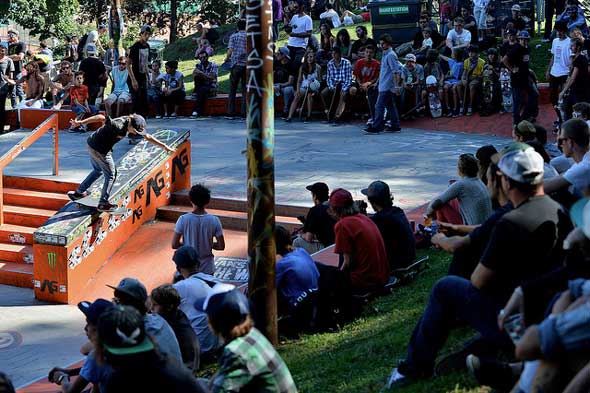 RESULTATS COMPLET :
Bowl Ams : 1 Raphael Ostorero – 2 Martin St-George – 3 Adrien Burguiere – 4 Seb Poix – 5 Julien Mojon – 6 Remi Verrier – 7 Dylan Vello – 8 Maxence Fazy – 9 Mickael Clebert – 10 Vincent Brun
Bowl Pros : 1 Sam Beckett 1000e – 2 Jake Collins 700e – 3 Joris Bricher 550e – 4 Szymon Stachon 350e – 5 Josh Young 250e – 6 Pierre Favre 150e – 7 Stephane Boussac – 8 Micky Iglesias – 9 Robin Bolian – 10 Vincent Matheron
Street Ams : 1 Celian Cordt-moller – 2 Matisse Banc – 3 Romuald Link – 4 Benjamin Raitano – 5 Christen Steffen – 6 Antoine Rauber – 7 Quantin Boillon – 8 Simon Chatois – 9 Kevin Deschamps – 10 Aurelien Puits
Street Pros : 1 Douwe Macace 1000e – 2 Max Genin 700e – 3 Adrien Bulard 550e – 4 Nabil Slimani 350e – 5 Victor Pellegrin 250e – 6 Julien Merour 150e – 7 Aurelien Giraud – 8 Quentin Saillet – 9 Julien Morin – 10 Joseph Biais
Pro-tec Best Trick : Sam Beckett – Jake Collins – Szymon Stachon
Monster Best Trick : Max Genin – Adrien Bullard – Aurelien Giraud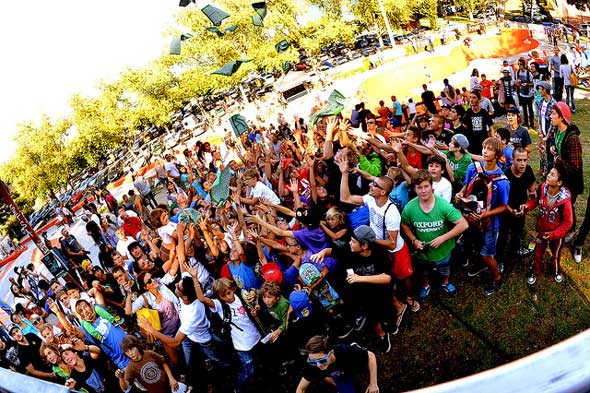 18/09/2012 | Categories: Infos, Resultats | Tags: A La Bonne Planchette, Aaron Penna, AFTER SHOW_FAR'N HIGH au SHOWCASE, Alex Richard, Andy Scott, Antoine Laurent, Back To The Street session_Rouen, Benoit Renaux, Bingaman, BOB CASALE, Carl Bourguignon, Corentin Hue, Creature Skateboards: Black Metal, David Basso, Edouard "Frenchi" Damestoy, Ficelles Picardes 2017 !, Fred Mortagne, Gaëtan Ducellier, Graham, Gravette, Hitz, Horn, Jean Pantaleo, Jérémie Plisson, Jeromy Green, Jocke Olsen, Joris Brichet, JT Saldou, Juan Renoux, Jussi Korhonen, Keegan Palmer, Kevin Kowalski, l'"Equipe de France de Skateboard Juniors, Les niaks, Mallory, Napo Jam IV, Navarrette, Partanen, Paul Luc Ronchetti, Perkins, pessac, Pic-Nic Table Contest, poissy, Ponts, Rony Gomes, Sacha Pinon, Samu Karvonen, sebastian Mouron, skatepark de villiers sur orge, Skaterock XI + Skaterock Contest, smendou skate part, Teddy Morellec, Thomas Belot, VANS CONCRETE WEEK-END, Volcom BOWL-A-RAMA, X-Tv, Yoann Kim | Leave A Comment »
---