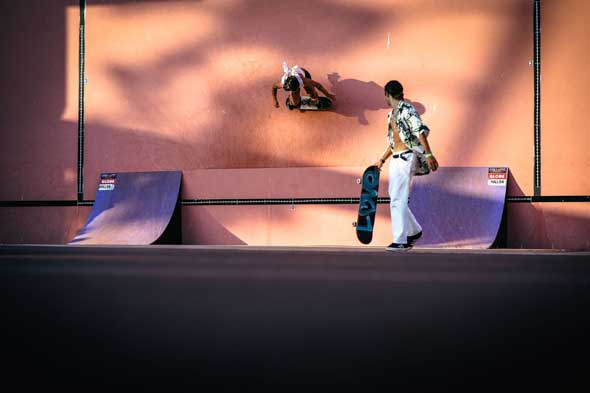 Samedi dernier, cOLLAPSe skateboards a fêté ses 7 ans au Casino d'Hossegor sur le thème des 80's, le fronton a été transformé en "skatepark" l'espace d'une journée avec curbs à slappy, wallrides, borne d'incendie etc…évidemment les riders, comme le public, étaient invités à se parer de leur plus belle tenue des années 80, et certains ont vraiment joué le jeu, ça fait plaisir!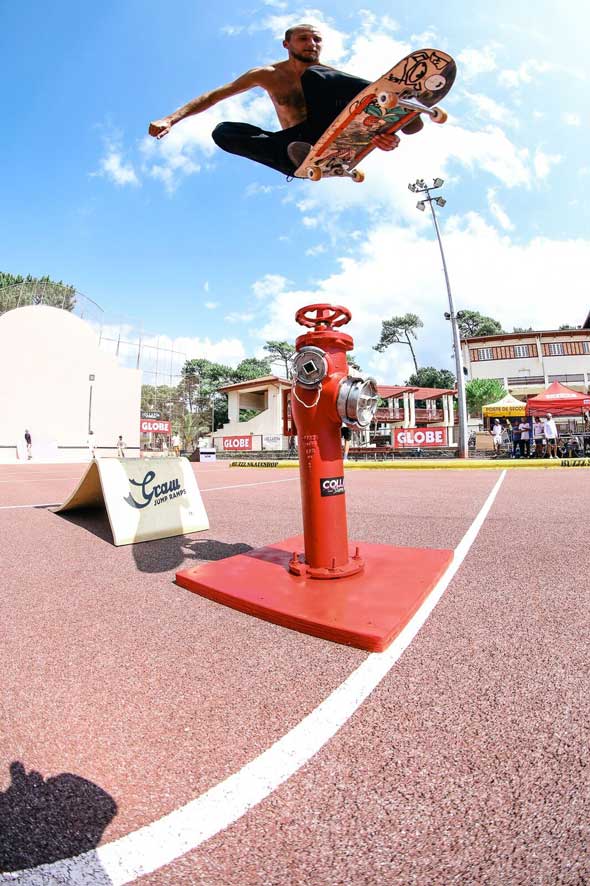 Niveau skate, le team cOLLAPSe au complet biensûr avec George Poole, Matt Débauché, Hugo Westrelin, Gaëtan Ducellier et Romain Covolan, accompagné de Vincent Milou, Lucas Puig, Joseph Garbaccio, Vincent Coupeau, Pepe Tirelli, Mickael Germond, Bastien Marlin et beaucoup d'autres puisqu'ils étaient bien plus de 50 riders à ripper les différents modules installés sur le site !
L'ambiance de dingue toute la journée, les dégaines improbables, le spot, les nbd en tirette (??), les distances de dingue parcourues sur le wall, la table de picnic défoncée (au propre comme au figuré), le tout clôturé en beauté par le concert de This Will Destroy Your Ears font de cette édition une des plus belles jusqu'ici.
Un grand merci aux sponsors: Globe, RVCA, Buzzz skateshop, la bière Hapchot, Nixon, Hall04 skateparks, Graw Jump, Coloriage, Savate Skate Socks, Film Trucks et Thanks Skateboarding Mag, ainsi que la ville d'Hossegor, le casino et le club de pelote, le Spot food truck, et surtout un énorme merci à tous ceux qui se sont relevés les manches pour filer un coup de main, ils se reconnaîtront!
Les photos signées Clément Le Gall.

Résultats:
Nixon Picnic Table Best Trick: Matt Débauché (bs nbs fakie & bs flip) – 250€
Graw Jump Fire Hydrant Best Trick: Joseph Garbaccio (biggerspin flip, bs flip 360) – 250€
Buzzz Skateshop Best Slappy Line: Vincent Milou – 250€
RVCA Launch Ramp Best Early Grab: Mickael Germond – 250€
Globe Highest Wallride: George Poole (3m50) – 250€
Globe Longest Wallride: George Poole (5m05) – 250€
Hall04 Best 80's Outfit: Louis Poole – 100€
cOLLAPSe Rider of the Day: Vincent Milou – 250€
---
Some of the Cliché team headed to the Active park to film a park crashers clip. Click the link below to see what went down featuring – lem Villemin, Lucas Puig, Joey Brezinski, Paul Hart, Daniel Espinoza & Andrew Brophy.
---