Final :
1. Gustavo Ribeiro. 2. Ivan Monteiro. 3. Marcos Montoya. 4. Maurio McCoy. 5. Jake Ilardi. 6. Jorge Simoes. 7.Vincent Milou. 8. Giovanni Vianna. 9. Hermann Stene. 10. Jhancarlos Gonzalez. 11. Yoshi Tanenbaum. 12. Christian Dufrene.
Best Tricks :
1. Jorge Simoes – Backside Bigspin 180 nosegrind 180 on Hubba ledge
2. Giovanni Vianna – Cab backside 180 nosegrind on Hubba ledge
3. Daniel Yeager – Gap back tail kickflip on A-Frame rail
---
ADRIEN BULARD WINS FISE WORLD CHENGDU AND TAKES THE OVERALL TITLE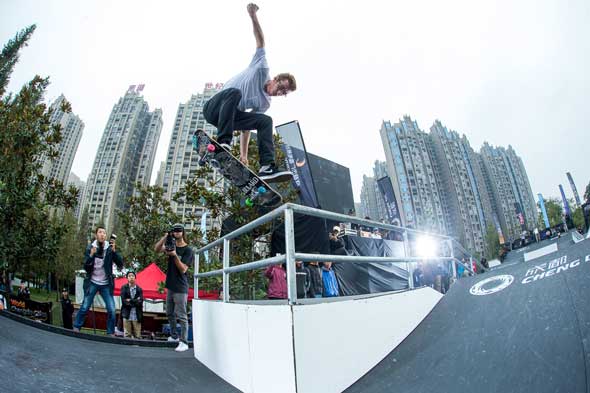 With more than 3000 points ahead of Adrien Bulard, Vincent Milou came to Chengdu with confidence. But when Adrien Bulard landed his best run (above) and scored 91.33, Vincent Milou knew he needed to get at least 7th place. With a couple of missed tricks he only managed 8th, and thus he had to give up the overall title he had in sight since his won both in Montpellier and Edmonton. Hard to say anyone saw this one coming!
Adrien Bulard wins the FISE World Chengdu contest, ahead of the magnificent Japanese Horigome Yuto (run below) and the promising Gustavo Ribeiro (run also below). The talented French skater thus enjoys the overall win on the FISE World Series 2016!

TOP 5
1 – Adrien Bulard : 91.33 pts
2 – Horigome Yuto : 89.66 pts
3 – Gustavo Ribeiro : 86.66 pts
4 – Joseph Garbaccio : 82.66 pts
5 – Martin Pek : 81.66 pts
…
8 – Vincent Milou : 77 pts
---
---