The Big Boss Man, Darren Navarrette, gets a couple quick jabs at the concrete clover before hitting the vertical swing set in this new episode of Quickies. Possible new Creature product in the opening clip? Doubt it but we've done worse. Ride with us. Die with us.
Follow Navs: (@navs5000)
---
L'association All Boards Family accueille actuellement et ce jusque au 7 Avril une exposition collective de photogrpahies !
2 Bordelais, Fred "El Gato Negro" Ferand, Marie "Sweet" Dabbadie, et la locale de l'étape Delphine "Flowers & Bones" Tournier, tous trois photographes amateurs mais passionés et acharnés, nous présentent leur travail.Au programme, "Skateboard, Lifestyle & Rock'n'Roll".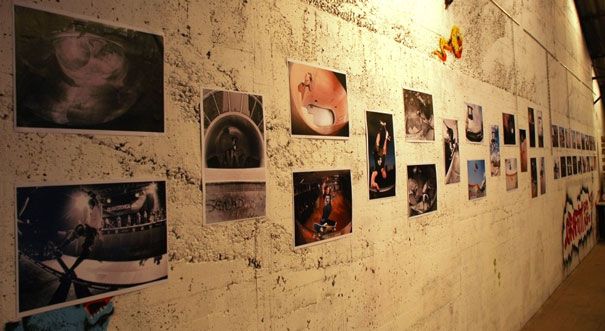 > Fred Ferrand, skateur depuis  1976, documente la scène skateboard européenne et internationale depuis plus de 30 ans. flickr.com/people/elgatonegro – ferand.free.fr – bordeauxciteskate.com
> Marie, elle du haut de ses 19 ans, skateuse aussi, s'attache plus aux ambiances lors de sessions skate, de soirées entre amis et affectionne aussi le portrait ! emptymindscanfillagain.tumblr.com – facebook.com/pages/Mary-Sweet-Photography2 – bordeauxciteskate.com
> Quant à Delphine, 22 ans, elle se concentre sur la photo de concerts avec un goût des plus prononcé pour le Punk-Rock ! flowers-and-bones.weebly.com
L'exposition est visible au Hangar All Boards Family (Avenue Roosevelt à Coulounieix-Chamiers" du mardi au samedi de 14h à 19h et jusqu'à 20h les mercredis.
Un dé-vernissage aura lieu le jeudi 05 Avril de 19h à 21h en présence des artistes, autour de quelques verres et d'une bonne session de skate !!!
Contact et infos: 06 13 84 71 46 / allboards@gmail.com / www.allboards.fr
Le nouveau site de la All Boards est en ligne : http://www.allboards.fr
---