Vans Park Series, the definitive World Championship park terrain skateboarding competition series for men and women, announces the pre-seeded World Championship Tour invitees in advance of the 2017 VPS Pro Tour series kick-off in Sydney, Australia on March 3-4.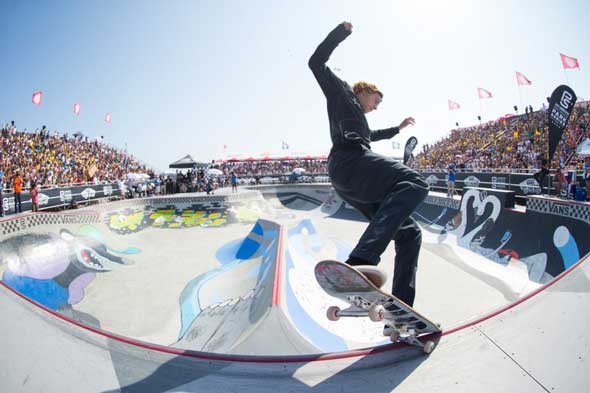 The 2017 VPS World Championship Tour Invitees are comprised of eight men's and three women's VPS Select Pros and seven men's Tour Wildcards. Select Pros are determined by previous year VPS World Championships results, and 2017 Tour Wildcards and Tour Challengers are selected by a committee of competition organizers, sport organizers and event promoters to bring exciting new faces and challenges to the VPS Pro Tour elite.
2017 World Championship Tour Invitees*
Select Pros :
 Alex Sorgente, 
Pedro Barros, 
Ivan Federico, 
Cory Juneau, 
Ben Hatchell, 
Kevin Kowalski, 
Grant Taylor, 
Jack Fardell
Tour Wildcards:
 Chris Russell, 
Curren Caples, 
Greyson Fletcher, 
Ishod Wair, 
Oskar Rozenberg, 
Raven Tershy, 
Ronnie Sandoval
Women's Select Pros :
 Brighton Zeuner, 
Jordan Barratt, 
Kisa Nakamura.
The remaining field of men's and women's official 2017 VPS Pro Tour Challengers will be available online at www.vansparkseries.com.
Vans Park Series
2017 World Tour Schedule
Global Qualifiers :
Australia – 
March 4* •
Brazil – 
April 8* •
Sweden – 
May 27*  •
Canada – 
July 8* •
United States – 
August 1-5
World Championships:
United States – 
September TBA
---
Ça y est, c'est l'inauguration du nouveau skatepark couvert en centre ville de La Rochelle !
Ça fait maintenant 5 ans que l'association 3'6 TRIP œuvre pour avoir ce genre d'endroit, alors certes c'est riKraK, mais ça passe!
Ce park est un aboutissement de tellement de temps et d'efforts, que nous sommes vraiment content de pouvoir ouvrir et de vous y inviter!
Merci à tous les bénévoles de l'asso qui ont passé du temps au park à manger du bois Vick, Fred, Momo, Yoggi, Pat, Teboo, Yo, Manu, merci à Xp merci à Jo pour l'affiche, Stéph pour la tof, et SIROCCO pour le soutien quotidien.
---